Biomass Magazine's March 2016 issue featured an article on the biomass retrofit project at the High Mowing School in Wilton, NH.  DCM Logic supplied its BoilerMaestro boiler controller and other products and services for this project.
Biomass Magazine March 2016 High Mowing Article
Chief Engineer magazine's April 2014 issue has a cover story on the Pennsylvania Department of Conservation and Natural Resources' Weiser Forest boiler facility.  Their two Fröling P4 boilers are monitored by the BoilerScope™.  Read the full article.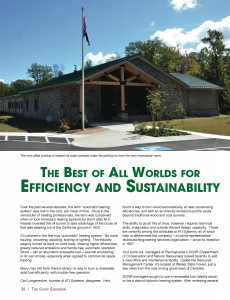 Harvard Forest in Petersham, MA just dedicated their new boiler facility.  Their Froling FHG boilers are monitored by the BoilerScope™.  More information about Harvard Forest's biomass heating system can be found here.
Harvard Forest has installed their BoilerScope (small black box) at the upper right corner of the wooden panel.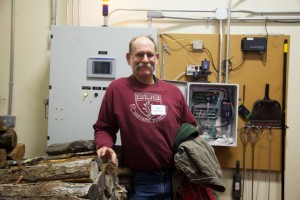 Source:  Harvard Forest's Facebook page.
Massachusetts State Representative Anne Gobi touring Harvard Forest's boiler room.  Their BoilerScope is only partially obscured by the bearded gentleman.